Simon San death inquiry 'will not be held'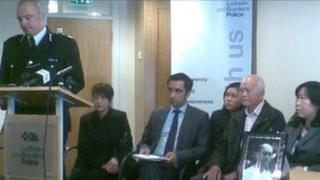 An inquiry will not be held into claims a delivery driver's killing should have been treated as racially motivated, the Crown Office has confirmed.
Simon San died last August after an attack by a gang as he parked outside his family's Edinburgh takeaway.
Now police have apologised to his family for mistakes in the way they investigated the case.
But prosecutors maintain there was no evidence to show the attack on Mr San, 40, was racially motivated.
It follows the family lawyer's calls on the Lord Advocate to order an immediate inquiry into how the case was handled by the Crown Office.
An internal investigation was launched by police after his family complained about their handling of the case.
The Lothian and Borders force has now issued a public apology.
Deputy Chief Constable Steve Allen said: "There is no doubt that Simon's family have not had the service from my force that we would hope to give any family or any victim of crime.
"I have apologised privately to the family for that failure and would like to repeat that apology publicly."
Mr Allen said the organisation had not listened to the family when they said they thought the attack was racially motivated.
He also apologised for not making them feel that their views mattered, and for not recording and investigating the attack on Mr San as a racist incident.
He added: "We said that Simon was in the wrong place at the wrong time.
"He was not. Simon was at his place of work in a city that was his home.
"He was playing his part as an active member of our community, contributing through work to the economic success of this city. Simon was a fellow citizen who was killed tragically and pointlessly."
He said the force had already taken steps to review its management of critical incidents and was "refreshing guidance" and training given to all officers and police staff in relation to identifying hate crimes.
Mr Allen has also spoken individually to all officers and police staff mentioned in the complaint.
Simon San's father, Trieu Seng San, said the death of the youngest of his six children had "destroyed the whole family".
He said: "I, along with my family, am very angry with the treatment we received from Lothian and Borders Police.
"The findings do not offer me any peace, they merely confirm that we were right that we have not been treated appropriately by the officers."
He said the family welcomed the findings of the police inquiry, but still felt they had been "denied justice".
They asked the Lord Advocate to order an immediate inquiry into the prosecutors actions.
But a Crown Office spokesman said: "In light of this apology the area procurator fiscal has offered to meet Mr San's family again to discuss any questions which they might now have.
"We can confirm the Lord Advocate will not be instructing an inquiry and is satisfied with the Crown's prosecution of the case."
Mr San died in hospital after suffering severe head injuries in the attack on 11 August 2010 in Lochend Road.
Mr San managed to get out of the car and call the police during the incident, but was pushed to a wall and punched in the face.
Sixteen-year-old John Reid, who admitted culpable homicide, was sentenced to five years for the killing.
Two other 16-year-olds pleaded guilty to assault charges.
In April, Michael Roberts, had his 42-month sentence cut to 26 months and Keir Rodger had his 34-month term cut to 24 months by appeal judges.