Pub landlord Steven Curran's killer jailed for life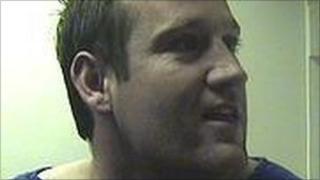 A pub customer who was caught on camera driving over the landlord of an East Lothian inn has been jailed for life.
Lee McNamara, 24, will serve at least 13-and-a-half years in prison before he can apply for parole.
He had admitted culpable homicide but was found guilty of murdering Steven Curran, 47, in what a judge described as "a terrible way".
Mr Curran, who ran the Dolphin Inn at Whitecraig, was found dead at the back of the pub at 02:00 on 21 October.
At the High Court in Edinburgh, Lady Clark of Calton told McNamara said: "You have left a wife without a husband and children without a father."
She pointed out McNamara's drunken state was the main explanation for the crime.
McNamara ambushed Mr Curran "for no good reason" in the car park as he left the pub after closing time.
CCTV footage from the premises captured the killing and was shown to the jury at McNamara's trial.
Mr Curran was punched and fell to the ground before McNamara sat on him, struck him again and robbed him of the keys for his wife's Toyota car.
McNamara then returned and kicked the victim, who was left lying motionless behind the car.
The provisional licence holder got into the vehicle and reversed over Mr Curran, who was dragged under the car. He suffered extensive chest injuries, including fractured ribs and breastbone and a collapsed lung.
McNamara drove off and later crashed the stolen car into the central reservation of the A1 road near Dunbar, in East Lothian.
He later told a nurse that he had been driving at about 120 mph when the collision occurred.
The car was empty when police arrived at the crash scene. They later went to Mr Curran's home and spoke to his wife, who was waiting for her husband to return from work.
Officers then went to The Dolphin Inn and found the victim's body at the rear of the pub.
McNamara later approached police and identified himself as the driver of the crashed Toyota. He was taken to Edinburgh Royal Infirmary after complaining of pain.
The plasterer, of Carberry Court in East Lothian, burst into tears when he was later told in hospital that the publican was dead.
One nurse said that he repeated several times that he should be locked up and the key thrown away.
He told staff that he had been out drinking at the only pub in the village with friends, and had claimed that the owner had been "winding them up". He then waited outside and attacked Mr Curran.
McNamara, who has previous convictions for assault, malicious mischief and for driving without a licence and insurance, also admitted driving dangerously at excessive speed while under the influence of drink, while unsupervised and without insurance.