Three jailed for Nattalie Muir killing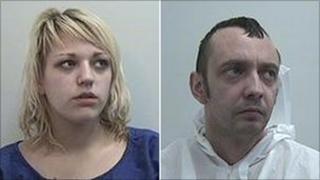 A schoolboy and two friends who killed a young mother after she aborted his baby have been jailed.
Nattalie Muir, 21, was stabbed in Whitburn, West Lothian, last December.
A 15-year-old boy and 34-year-old George Stewart, who both admitted culpable homicide, were sentenced to six years and to eight years and five months respectively.
Emma Merrilees, 20, who admitted murdering Miss Muir by striking the fatal blow, was given a life sentence.
She was ordered to spend a minimum of 16 years behind bars before she can apply for parole.
Passing sentence at the High Court in Glasgow, judge Lord Matthews said he was "sick" of the sort of "mindless violence" involved in the incident.
Revenge attack
The victim's father, Calum Muir, described Nattalie as a great mother to her three-year-old daughter and branded her killers "evil cowards".
The High Court in Livingston had heard that the 15-year-old, who cannot be named for legal reasons, had sworn revenge on Miss Muir.
She had become pregnant by him and then had a termination before going back with a former boyfriend, Thomas Thyne.
The "devoted" young mother was stabbed through the heart in the attack, which was organised by the 15-year-old boy.
The court heard that prior to the fatal assault the 15-year-old had pestered Miss Muir with phone calls.
The boy - who had been drinking with his co-accused and another woman prior to the killing on 11 December - then spoke about going to Whitburn to "fight" Miss Muir.
A friend's car was loaded with a spade and axe, and Merrilees brought a six-inch knife.
Miss Muir and Mr Thyne were walking in the town's Brucefield Drive when a car pulled up beside them.
Mr Thyne was chased off before the young mum was repeatedly punched and Merrilees then struck her with the blade.
The trio sped off in the car and an injured Miss Muir was eventually discovered by a passer-by.
Mr Prentice said: "He heard the deceased saying what he thought was the word 'beige', but it is much likely to have been her daughter's name 'Paige'.
The single stab wound inflicted by Merrilees severed an artery, causing Miss Muir to bleed to death within minutes.
The 15-year-old's QC, Ian Duguid, said the youngster had a mental age of under 10.
John Keenan, defending Merrilees, said the murderer had been "remorseful and tearful" when discussing the killing.
Lord Matthews interrupted the lawyer at one point saying: "No one else stabbed anyone. Why did she do it?
"It is mindless violence - I am sick of it."
He added: "All of this because of a few stupid and badly chosen words on the telephone, the effect on you of drink and drugs and the incomprehensible decision by Merrilees to take a knife and use it."
The victim's father has urged the First Minister Alex Salmond and his government to focus more on violent criminals rather than the battle against sectarianism.
Mr Muir said: "No sentencing will be enough in my eyes.
"Mr Salmond needs to look again at sentencing for knife crimes.
"He has spent time trying to take sectarianism out of football grounds, but songs have never hurt anyone - knives and axes have."
Det Insp Phil Gachagan, of Lothian and Borders Police, said: "I am satisfied with the sentences which I hope will bring an end to a difficult process for Nattalie Muir's family.
"I am grateful they were spared the ordeal of a trial, but this does not diminish the deliberate, calculated act of violence which has left a young child without a mother.
"Our thoughts are with them, and we hope in time that these sentences will bring some comfort to them."