Chef murder trial hears from Stewart Taylor's partner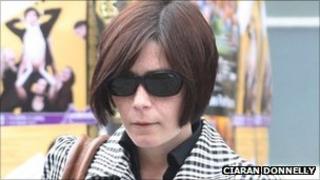 A woman left for dead in a burning flat in Edinburgh has told a murder trial that she woke up in hospital with no recollection of her ordeal.
Lyndsey Methven, 30, had to be told her boyfriend, Stewart Taylor, 33, had been killed.
Her former boyfriend, Frank Moore, 43, is on trial accused of attacking the couple at their home in the Grange area of the city in February.
He denies the charges and has lodged court papers claiming he has an alibi.
Mr Moore, 43 is accused of murdering chef Mr Taylor by striking him on the head with a blunt implement, punching and kicking him.
It is then alleged that he set fire to bedding and furnishings in Ms Methven's flat.
He is also accused of attempting to murder his former girlfriend by stabbing her and leaving her in the locked flat after he had started a fire.
Extensive injuries
Giving evidence at the second day of the trial, Ms Methven said she woke up in Edinburgh Royal Infirmary with her mother at her bedside.
When she came to she was unable to remember a fire in her flat.
She described how she and Mr Taylor, an Aberdeen supporter, watched his team on TV, ate take-away pizza and drank wine and beer on their last evening together.
Advocate depute Gary Allan QC, prosecuting, asked about her next memory. "Waking up in hospital and pulling out the tube that was helping me to breathe," she said.
"When you woke up, did you become aware that you had suffered any injury?" Mr Allan continued.
"No, my first question was: 'Where is Stewart?'"
Ms Methven said she was being given morphine and other pain killers.
"I can remember being told that Stewart was no longer with us," she told the trial.
She went on to describe her injuries saying: "Every bone in my face was broken."
She said lost the sight from her left eye and was "profoundly deaf" in her left ear.
She described two stab wounds to her right hip and said the middle finger of her right hand was shattered.
Ms Methven said: "I don't know what happened to Stewart. I don't know what happened to myself."
Earlier she told the trial her relationship with Mr Moore had come to an end soon after he told her he was going to Thailand on holiday.
The trial also heard how Mr Moore attacked Ms Methven in her home in December last year after she and Mr Taylor went there so that she could change into wellies and a thicker jacket because of the winter weather.
Mr Moore also denies that alleged attack and bombarding Ms Methven with menacing and obscene phone calls. He further denies trying to cover up the alleged murder and attempted murder.
The trial continues.