Edinburgh trams: Plan to stop at Haymarket 'bonkers'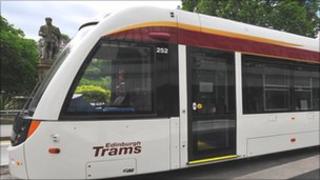 The chief executive of Edinburgh's Chambers of Commerce has described the decision to cut short the controversial city tram route as "bonkers."
The line will now only go between Edinburgh Airport and Haymarket.
At a vote on Thursday councillors threw out a proposal to borrow an extra £231m to extend the line to St Andrew Square.
Graham Birse told BBC Scotland that many businesses in the city would be dismayed by the sudden change of plan.
He said: "It seems to me to be a political solution and not a practical one.
"No business person in Edinburgh would take to their board the proposition that we should invest £700m in a project that is going to make a £4m a year annual loss.
"And to borrow £11m a year to sustain it is just bonkers."
The decision prompted Edinburgh MSP Margo MacDonald to call for a public inquiry into the fiasco.
Officials have warned that a tram line to Haymarket would require a £3m to £4m ongoing annual subsidy, which could also impact on the profitability of Lothian Buses.
The Lib Dems lost the council vote after their coalition partner, the SNP, abstained.
SNP councillor Tom Buchanan has defended his party's decision not to back the Liberal Democrats.
He said SNP members abstained because they think there should be a referendum and he has called for full a public inquiry.
He said: "The people of Edinburgh have a right to say whether they wish this project to continue, whether they wish it go to Haymarket, whether they wish it to go to St Andrew Square, whether they wish it to go to Newhaven.
"Why are they not prepared to let the people speak on this?"
Labour's move to have the line stop at Haymarket was supported by the Tories and was passed with 25 votes.
Edinburgh Labour leader Andrew Burns said the decision to complete the tram project to Haymarket was the option with "least risk".
Following the meeting Edinburgh Council leader Jenny Dawe described the decision as "heartbreaking".
Gordon Mackenzie, Edinburgh City Council's transport convener, said Princes Street would still have to be closed to have the tram lines redone on health and safety grounds despite the trams not travelling that far.
He said: "Clearly we are all appalled by the decision.
"We have started working on the consequences and have met with the head of legal services to plan how we deal with this, there are a lot of loose ends here.
"The quote to Haymarket was based on continuing through to St Andrew Square.
"Now the line is terminating at Haymarket we have got to put in a terminus there for it.
"That needs to be designed, which will take several months, causing delays.
"Delays cost the council £300,000 a week, so already we are into a very big number."