World's smelliest plant fails to flower in Edinburgh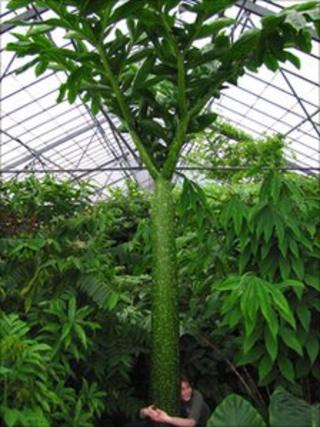 The world's smelliest flower which horticulturalists said was set to bloom for the first time in Scotland has failed to flower.
The giant Amorphophallus titanum, or Titan Arum as named by Sir David Attenborough, rarely flowers in the wild, let alone in captivity.
In May staff at the Royal Botanic Garden in Edinburgh believed it was set to flower this summer.
However, the 153kg plant has only produced a huge leaf.
The leaf, which is 14ft tall, looks more like a tree.
Louise Galloway, a horticulturalist at he Royal Botanic Garden in Edinburgh, said: "Everything pointed to the bud being a flower but it turned out to be a leaf instead.
"We were really surprised it wasn't a flower but we are still really excited about it being a leaf.
"It will be like that for about a year."
It is also known as the "corpse flower" because it gives off a stench of rotting flesh to attract insects.
The garden has had the plant since 2003.
The plant, which is indigenous to Sumatra's rainforests in Indonesia, is currently kept in the greenhouse at the botanic gardens at a temperature of 20C to 25C.
When the plant heats up, the temperature will rise by about another 10C.