Hurricane delays lover-in-shed Rita Heyster's sentence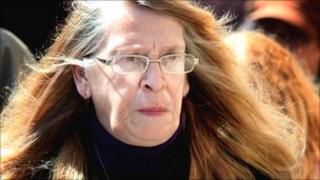 Sentencing of a woman convicted of helping her lover hide his dead wife's body under the floorboards at a house in West Lothian has been delayed.
An earlier trial heard that Rita Heyster, who lived in her lover's shed for weeks, helped Harry Jarvis cover up the murder of his wife Carol.
The judge due to deal with Heyster is stuck in his holiday home in the United States because of Hurricane Irene.
Heyster will be sentenced at the High Court in Edinburgh at a later date.
Harry Jarvis, 61, is serving a life sentence after being convicted earlier this year of murdering his wife.
A judge ordered him to serve at least 15 years before he can apply for parole.
Heyster, 57, who had come from a wealthy background but had fallen on hard times, was said to be "besotted" with Jarvis and has continued to visit him in prison.
Prosecutors said her devotion went as far as helping Jarvis hide the body of his 47-year-old wife.
Heyster also pretended to be Jarvis's wife when police called looking for the missing woman.
During Heyster's four-week trial advocate depute Gary Allan QC, prosecuting, described Jarvis as "a manipulative monster".