Neil Lennon's attacker made 'sectarian' remark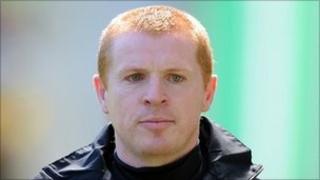 The man charged with attacking Neil Lennon during a match against Hearts shouted a sectarian comment at the Celtic manager, a trial has heard.
Peter Croy told Edinburgh Sheriff Court he heard John Wilson say: "Lennon, you Fenian bastard" after pinning him to the ground.
Mr Croy was a security manager at Hearts' Tynecastle stadium on 11 May.
Mr Wilson denies charges of assault and breach of the peace, both of which are aggravated by religious prejudice.
Mr Croy, 61, is the operations director of stewarding and security company G4S.
He told the trial that he saw Mr Wilson going on to the track near Mr Lennon.
He said: "I ran between two policemen towards the person.
"I just jumped on top of him. I was trying to restrain him on the ground because I knew the police would be there."
He said Mr Wilson shouted the sectarian comment at the Celtic manager.
Questioned by defence advocate David Nicolson, Mr Croy denied having problems with his hearing and rejected a suggestion that the expletives used had been different from the ones he claimed to have heard.
The trial also heard evidence from Brian Winter, 43, who was the fourth official at the fixture.
He told the court he had seen a man "lunge" for Lennon, but slip in the process.
Mr Winter said: "I saw Alan Thompson make a grab for the man as he was running, and he appeared to put him off balance by grabbing an item of his clothing.
"He was then being restrained on the ground by security. I moved in to pull Neil Lennon away from the situation.
"Mr Lennon had an angry reaction. I intervened and asked him not to get involved and leave it to the police and he accepted that."
'Moment of madness'
The court later heard from a police officer who handcuffed Mr Wilson.
PC Karl Cleghorn said the 26-year-old told him it was a "moment of madness" after he cautioned him.
The court was shown a DVD of a police interview in which Mr Wilson broke down in tears and admitted drinking "half a bottle of Buckfast and two cans" before the game.
He also said he had been taking strong painkillers because he had broken his ribs playing football.
During the interview, Mr Wilson told Sgt Brendan Innes: "I've run onto the park and I was running at Neil Lennon.
"I realised what I was doing and as I've got closer I've slipped and that's put me forward or something."
He went on: "I realised what I had done - a stupid thing - but I never assaulted anybody. I think I stumbled into Alan Thompson but I never assaulted him either."
He added that he just wanted to shout at Lennon but did not say anything sectarian.
Sgt Innes asked him if he shouted "you Fenian bastard or ya Fenian bastard" which he denied.
Mr Wilson is accused of assaulting Mr Lennon and of breaching the peace by conducting himself in a disorderly manner, running onto the field during the match, running at the away team dug out, shouting, swearing, making a sectarian remark, all to the alarm and annoyance of others and causing further disturbance within the crowd.
He denies all the allegations against him.
The trial before Sheriff Fiona Reith QC continues.