Firefighters put out blaze at historic Edinburgh flats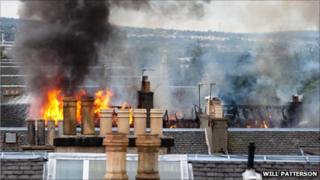 Forty firefighters took more than seven hours to put out a blaze in a row of historic terraced houses in Edinburgh.
The alarm was raised at 5:20 when fire broke out at a ground-floor flat in Hazelbank Terrace.
The fire spread through neighbouring flats and into the roof.
Firefighters said the narrow streets and historic nature of the colony buildings made it difficult to stop the spread of the fire, which was eventually extinguished at about 14:30.
There are no reports of anyone being injured.
Neighbouring properties had to be evacuated and roads had to be closed.
A spokeswoman for Lothian and Borders Fire and Rescue Service said: "By 8.30am firefighters reported that the fire would not be spreading to any further properties."
Will Patterson, who lives nearby, told the BBC Scotland news website: "It was pretty frightening how quickly it spread.
"It's a shame for the residents of the flats, it must be an awful thing to happen to anyone."