Driver admits causing 83-year-old's death in East Lothian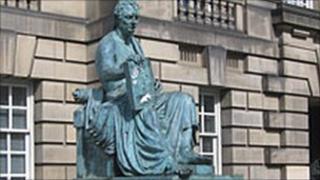 An Edinburgh man has admitted causing the death of an 83-year-old grandfather by driving carelessly and while over the limit.
A court heard Peter Mechan's car pulled out in front of a vehicle in which Lewis Leslie was a passenger.
George Montgomery, who was driving Mr Leslie, was unable to avoid Mechan's car and crashed into it. Mr Leslie died two days after the collision.
Sentence on Mechan, 34, was deferred until 5 October.
He was banned from driving in the interim.
The High Court in Edinburgh heard that the victim's wife Margaret suffered a stroke and died shortly after him.
The crash took place on 11 August 2009 on the A198 between Prestonpans and Longniddry at its junction with Seton Mains in East Lothian.
Advocate depute Peter McCormack told the court that paramedics who attended to Mechan noticed the smell of alcohol on his breath.
He added: "He accepted he had been drinking and mentioned that he had been having domestic problems. He said, 'I have been really stupid, there is no point in denying it'.
"He [Mr Leslie] was an energetic man who enjoyed his garden and greenhouse, jazz and relationships with his wife, sons and grandchildren. His sons described him as a loving and supportive father, who was always there, gave good advice, and had a good sense of humour.
"He had been married to his wife, Margaret, for more than 40 years. She took the news of his death badly and suffered from a stroke, from which she did not recover."
A sample of the accused's blood was taken which contained 131mg of alcohol in 100ml of blood, the limit being 80mg.
The court was told Mr Leslie, who was a full-time carer for his wife, died from a tear within the abdomen.
Mechan admitted causing the death of Mr Leslie by driving carelessly and that he was unfit through drink or drugs.
He expressed sorrow for the pain and suffering he had caused.