BMX dancers and world class musicians at Edinburgh Mela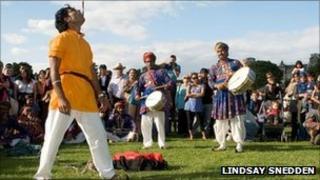 About 200 performers are descending on Leith Links in Edinburgh this weekend for the city's Mela festival.
BMX-riding break dancers, world-class international musicians and up-and-coming local performers are among those who will take to the stages.
This year's event is themed around Asian urban arts and also features a circus, drummers, and a Cuban papier-mache artist.
About 30,000 visitors are expected at the Links site over the weekend.
Now in its 17th year, the festival programme also includes children's arts and crafts activities as well as the annual fashion show.
A dedicated outdoor area will showcase Rotations, a unique fusion of BMX biking with contemporary dance, as well as live music called Africa Calling by Samba Sene and Diwan.
Spectacular commissions
The Big Top Tent will play host to collaboration of Indian and Western musicians with Simon Thacker's Svara-Kanti performing their world premiere which builds on the achievements of the acclaimed Nava Rasa ensemble.
The Garden Stage will be a platform for Bollywood and classical Indian dance along with choirs and musical jam sessions.
The festival's new artistic director Steve Stenning said: "This year's programme has an ambitious mix of spectacular commissions, world premiere performances and diverse programming that I'm sure will excite and enthral in equal measure.
"We still have our firm favourites such as the children's programme featuring outdoor-themed arts and crafts activities and the popular fashion show which will combine contemporary Asian designs with work from local fashion graduates."