Fireworks mark close of 'special' Edinburgh Festival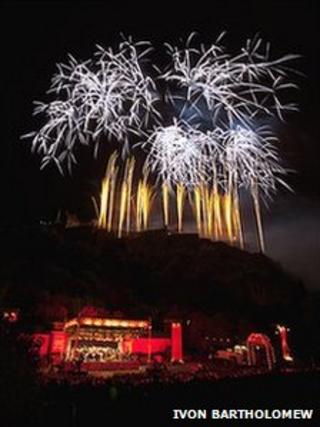 The Edinburgh International Festival has drawn "fantastic critical and audience reaction", according to its director.
Director Jonathan Mills was speaking ahead of the annual fireworks display marking the end of the event.
He said the festival had been "challenging" but had offered "some stunning performances".
More than 100,000 fireworks set to music will light the skies above the capital later.
Mr Mills said: "I've been moved, entertained and gripped by artists across dance, theatre, our visual arts, music and opera."
"This was a challenging festival, one that asked audiences to take a risk and to join us on a distinct and remarkable journey.
"I am pleased that we are where we need to be financially, but I am particularly delighted that there has been such a terrific response to the programme and that shared aspects of our cultures and humanities have been so clear and accessible to festival audiences."
The festival began on 12 August with a Korean Tempest, Taiwanese King Lear and the National Ballet of China's Peony Pavillion featuring on the programme for the opening weekend.
Festival organisers said audiences from 75 countries came to watch performances from 2,500 artists from 38 nations, and that local acts like Scottish Ballet, the BBC Scottish Symphony Orchestra and the Scottish Chamber Orchestra received "critical acclaim".
Cabinet secretary for culture and external affairs, Fiona Hyslop, said: "The 2011 programme celebrating Scotland's links with the Far East has helped to promote greater cultural understanding between nations, further strengthening our relationships and raising our profile internationally."
Social networking sites associated with the festival enjoyed extended reach, with an album of photos of Ravi Shankar by festival photographer Eoin Carey receiving just under 12,000 page impressions on Facebook.
There was also an increased take-up of facilities and ticket discounts for disabled patrons.
About four tonnes of explosives will be used during the fireworks spectacle with the display choreographed to music including Tchaikovsky, Glinka and Borodin, performed by the Scottish Chamber Orchestra.
Edinburgh councillor Steve Cardownie said: "It is worth reflecting on the tremendous benefits the summer events bring to our city."
"The capital this year was thriving, with a number of outstanding performances in venues across the city. I am very much looking forward to next year already."
Next year's festival will be launched on 14 March and runs from 10 August to 2 September.