Military jet in emergency landing at Edinburgh Airport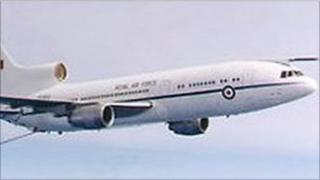 A military plane has landed at Edinburgh Airport after sparking a full emergency when it developed a problem with its wings.
The military Tristar, which was transporting a serviceman on compassionate grounds, began to experience a problem at about 12:30.
The pilot was forced to fly in a holding pattern above the city with its gear down in a bid to burn more fuel.
Once it was light enough, the plane landed at the airport at 13:00.