Two cats killed in Fife airgun shootings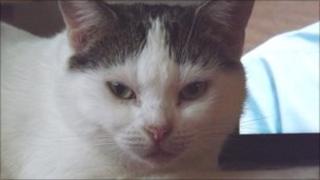 Two cats have died after being shot by airguns in Fife, police have said.
On Saturday, five-year-old white tortoiseshell cat Cleo was found by its owner staggering in a Burntisland garden with blood on its neck and legs.
The owner called a vet but Cleo died before they arrived.
A two-year-old tortoiseshell cat suffered internal injuries after being shot by an airgun in the Townhill area of Dunfermline on 11 August.
Post-mortem examinations found airgun pellets in both animals.
Ian Laing, wildlife and environment crime co-ordinator at Fife Constabulary, said: "These incidents cause a lot of unnecessary distress to the animals and their owners, but over and above that there are concerns with air weapons being discharged in residential areas and the associated risks to the public.
"For those reasons, we will be conducting extensive enquiries into both of these incidents and would seek the assistance of the communities involved in locating those responsible and ensuring they are dealt with appropriately."