Edinburgh recycling drive offers shopping vouchers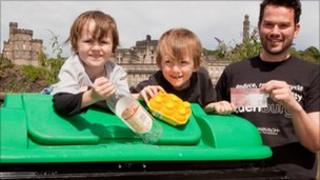 Edinburgh residents are being encouraged to recycle with the chance of winning £10 shopping vouchers.
About £800 of "rewards" are being issued by Edinburgh City Council officials at recycling points in a bid to entice people to use the service.
Vouchers will be handed out across the capital until 16 September.
The council will be providing incentives for all other types of recycling including kerbside collection and garden waste later.
The authority is attempting to meet its aim of recycling 50% of domestic waste by 2015.
Robert Aldridge, Edinburgh City Council's environment leader, said: "Every tonne of waste that goes to landfill costs the council £100 while recycling costs a small fraction of that.
"A clean and green Edinburgh benefits everyone living in or visiting the capital, so this is also our chance to say thanks to those people who are playing their part."