RAF Leuchars airshow 'not last one'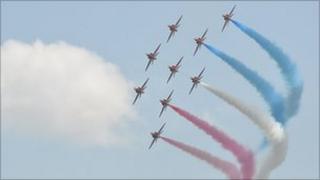 This year's airshow at RAF Leuchars will not be the last one at the Fife base, officials have confirmed.
It was announced in July that Leuchars had lost the fight to remain an RAF base, with its Typhoons due to leave for Lossiemouth in 2013.
It will become an army base after the aircraft have departed.
An RAF Leuchars spokesman told the BBC Scotland news website that they had "received no direction that 2011 is to be the last Leuchars Airshow".
He said: "RAF Leuchars is currently expecting to maintain its paramount duty of quick reaction alert and to perform routine Typhoon flying until 2013, such that the Typhoon force can continue to grow and provide the UK with a capable air force for the decades ahead."
The Red Arrows will be among the attractions at this year's airshow on Saturday.
They lost one of their jet pilots, 33-year-old Flt Lt Jon Egging, in an accident last month.
Fife Constabulary warned motorists to expect delays on Saturday as thousands of people attempt to reach the site.
Officers said people should travel by train to the airshow.
People who do travel by car should turn their sat navs off, follow police signs and use park-and-ride carparks.