Loopy Lorna's Tea House room in Morningside for sale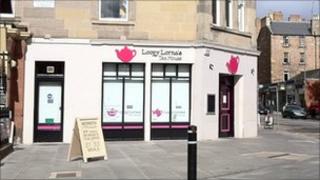 An award-winning tea room which quickly became an institution in an Edinburgh suburb has been put on the market.
Loopy Lorna's Tea House on Morningside Road, which closed down suddenly last week, has its lease for sale at £75,000.
Another branch in the nearby Churchill Theatre will remain open.
Paul Godzik, whose council ward covers Morningside, said locals in the area were "mourning its passing".
The 50-seat-teahouse, which was always full with customers, provided traditional home-baked afternoon teas served on china plates and with hand-knitted fun tea-cosies.
'Extremely popular'
In October 2010 the cafe's owner, Gaynor Salisbury, won Entrepreneur of the Year award for Loopy Lorna's Tea House on Morningside Road.
Also in May 2009 her head chef, Michelle Phillips, won casual dining chef of the year at the Scottish Chef Awards.
The company selling the lease said it was "an excellent opportunity to acquire a prominent trading unit in the heart of one of Edinburgh's favoured suburbs".
"Currently established site as a tea room, the property lends itself to a further tea/coffee offering, deli style operation or bistro."
Mr Godzik said Loopy Lorna's in Morningside Road was an "extremely popular venue".
He said: "It will be sorely missed as its ambiance and style is what people know and love.
"It quickly became a Morningside institution and a lot of people are now mourning its passing.
"Whoever takes it on I'm sure will know how successful it has been and therefore keep it as a cafe.
"There are a lot of people saddened by this news.
"I think it was closed because the one at Churchill Theatre was doing even better because there is better access for mothers with prams."
When the tea room opened in October 2008, Ms Salisbury had to shut the doors for two days to recruit and train more staff due to the number of customers.
Ms Salisbury was unavailable for comment.