Redford soldier Osita Omenyima jailed for drug dealing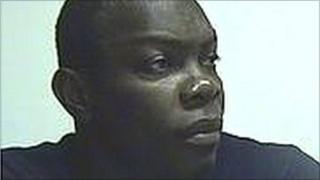 An Edinburgh soldier who used the Army as a front for drug dealing has been jailed for five years.
A trial heard how cocaine hidden in marker pens was addressed to Osita Omenyima, 35, at Redford Barracks in the capital last year.
Judge Lord Malcolm praised the work of drug squad officers and the UK Border Agency that led to the seizure of a £50,000 consignment.
At the High Court in Edinburgh Omenyima denied knowing what was in the parcel.
He said he was just "a fall guy" but a jury found him guilty of being concerned in the supply of cocaine between January and September 2010.
Advocate depute Gillian More, prosecuting, said: "He used the Army to conduct this drug dealing operation. He used his position in the Army as a front."
Highlighter pens
Qualified accountant Omenyima grew up in Nigeria and came to the UK in 2008 to study in London, but changed his career plans and enlisted in the Army in November of that year.
He was a rifleman in the Rifles Regiment and living at in Dreghorn Gardens, Edinburgh, when the offence was committed.
A parcel had been sent to the barracks by a cousin in Venezuela, the trial heard.
Inside were books, pamphlets, a prayer written on a piece of paper and three plastic boxes containing 38 highlighter pens.
The UK Border Agency became suspicious because some of the pens were leaking and opened the parcel when it arrived in the UK at Coventry Airport.
The Scottish Crime and Drug Enforcement Agency were called in and while one undercover policeman posed as a delivery driver, others kept watch on Omenyima.
He was caught after a chase across the barracks' parade ground.
At the High Court in Edinburgh, solicitor advocate Richard Goddard, defending, said Omenyima came from a law-abiding family in Nigeria and was a first offender.
He had twin teenage sons in Nigeria but re-married in August 2009 and his wife gave birth following his trial.
Lord Malcolm, sentencing Omenyima, said since arriving in the UK he had done well in his chosen career in the armed forces.
"However, you have thrown all this away by your deliberate involvement in an illegal trade which causes misery to ultimate users, their families and society in general," he said.