Edinburgh trams: Princes Street to close as work resumes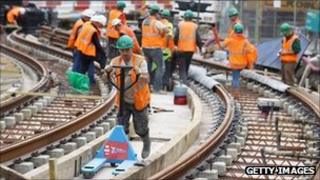 Edinburgh's Princes Street will close again to allow work to resume on the Scottish capital's troubled trams project.
Major construction was halted more than two years ago following a dispute over who should pay for additional costs.
Buses, taxis and cyclists will be diverted along George Street from 19 September, with all other traffic being rerouted along Queen Street.
The work is due to be finished by July 2012.
Edinburgh City Council said no work would take place during the Winter Festivals.
The local authority was given a deadline of 14 September to renegotiate a deal with the company BilfingerBerger.
The original budget for taking the line from Edinburgh airport through the city centre to Newhaven, in the north of the city, was £545m.
But the cost of the tram project grew steadily, with estimates for partial completion to St Andrew Square reaching more than £830m.
The city council will have to borrow up to £231m to take the line into the city centre.