Red Arrows return to RAF Leuchars airshow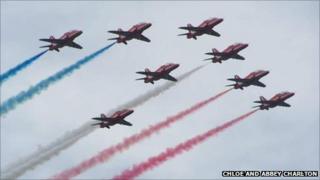 The Red Arrows were among the highlights at the annual RAF Leuchars airshow this weekend.
The squadron flew over Fife as an eight-ship formation in memory of their colleague, Flt Lt Jon Egging, who died in an accident last month.
Earlier this week the show's organisers confirmed that this year's event would not be the last one at the base.
Air operations at Leuchars are to move to RAF Lossiemouth in 2013 in the UK government's defence shake-up.
Leuchars will become an army base after its Typhoons have departed.
Battle of Britain
This year's airshow celebrated 100 years of military aviation in north east Fife.
The Battle of Britain Memorial Flight and the iconic Vulcan bomber were due to appear, alongside the Typhoon and Tornado GR4 aircraft at the heart of current RAF operations.
The Red Arrows performance came eight days after their first public performance since the death of one of their team-mates.
The aerobatics display team adapted their formations after the loss of Flt Lt Egging, 33, from Rutland, who died when his aircraft came down near Bournemouth Airport in Dorset on 20 August after performing at an airshow.
The team's first public performance was at Chatsworth Country Fair in Derbyshire.
Before the show, Wing Commander Nick Stringer, director of the airshow's flying display, said: "The Red Arrows' willingness to resume public flying displays in the wake of such a tragedy speaks volumes for their professionalism."
A spokesman for RAF Leuchars said: "It's been busy. There's been a lot of people here. The weather has not dampened people's spirits.
"There's been great displays by the Red Arrows and the French Patrouille."
In July Defence Secretary Liam Fox announced that RAF Kinloss in Forres, Moray, and RAF Leuchars will be turned into Army headquarters, as part of his "long-term strategy".
RAF Lossiemouth, in Moray, will be Scotland's last remaining air base following an announcement by the UK government last year.