High winds delay Edenbank Bridge works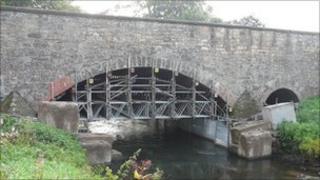 Work to strengthen the A92 Edenbank Bridge in Fife has been delayed by 48 hours due to high winds.
Transport Scotland is spending £500,000 to refurbish the bridge, which is between Freuchie and Ladybank.
The 12-week project, which was due to start on Monday, will now begin on Wednesday.
The A92 will be closed to all traffic for the first six weeks with vehicles being diverted at New Inn roundabout on to the A912.
Vehicles heading south will follow the same route, diverting off the A92 at Melville Lodges Roundabout and rejoining at New Inn.
Disruption 'inevitable'
Following a series of special inspections and assessments it was determined that the bridge needed strengthening to carry modern traffic.
The bridge has been temporarily propped in the last year to act as a temporary safeguard while a strengthening scheme was designed.
The works involve strengthening the masonry arches with reinforced concrete, waterproofing and reconstruction of the road surface.
Eddie Ross, BEAR Scotland's north east operating company representative, said: "Works are now scheduled to commence on Wednesday morning with diversions in place from midnight on Tuesday.
"These works will help to ensure that the bridge and the route remain safe and fit for purpose for years to come.
"Disruption is inevitable and we would ask motorists to drive carefully on the diversion routes, particularly through the various communities."