RAF Leuchars airshow's traffic jam plan 'success'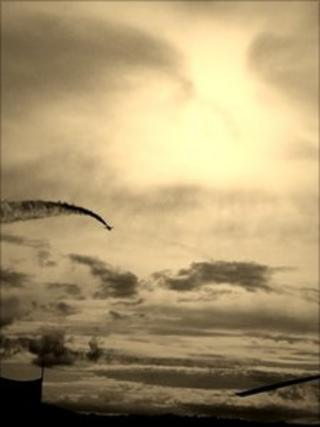 A plan to avoid traffic jams at Leuchars Airshow has been hailed a success by police.
Fife Constabulary has thanked drivers attending Saturday's event for switching off sat-navs and using the park and ride facilities.
An extra 1,000 people also chose to take the train compared with last year following requests from police. More than 40,000 people attended the show.
In previous years drivers complained of hours of traffic jams.
Last week the show's organisers confirmed that this year's event would not be the last one at the base.
Leuchars will become an Army base after its Typhoons have departed.
This year's airshow celebrated 100 years of military aviation in north east Fife.
Air operations at Leuchars are to move to RAF Lossiemouth in 2013 in the UK government's defence shake-up.
The Red Arrows were among the highlights at this year's event. The squadron flew over Fife as an eight-ship formation in memory of their colleague, Flt Lt Jon Egging, who died in an accident last month.
Ch Insp David McCulloch, said: "We asked drivers to expect delays, but to have faith in our signage, use the park and ride facilities and switch off their sat-navs.
"By responding positively to these messages we were able to keep the traffic flowing and the result was far fewer delays and consequently visitors being able to spend more time at the show instead of sitting in a traffic jam."
Squadron Leader Jon Greenhowe, the airshow's director, said: "This year's show provided a fitting tribute to mark the centenary of military aviation in North East Fife.
"We thank the many people who attended and value their support to the RAF in Scotland.
"It is especially gratifying that the hard work we put into planning with the emergency services, Fife Council and transport providers, resulted in a highly successful and enjoyable event in which we were able to communicate the RAF's many roles."