Edinburgh man may have killed sick dog by feeding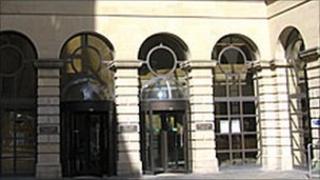 A man whose only friend was a two-year-old dog may have caused its death by trying to feed it when it had a medical problem which prevented it from eating.
Darren Dallas, 26, from Edinburgh, pled guilty at the city's sheriff court to causing the dog unnecessary suffering by failing to take it to a vet.
The Staffordshire Bull Terrier became dehydrated, malnourished and died of asphyxiation.
The offence happened between 8 October 2010 and 8 January 2011.
Fiscal Depute, Nicola Daly, said the Scottish SPCA were alerted to the dog's body lying in a garden in Whitson Road, Edinburgh.
A post-mortem examination showed it had died of asphyxia.
A medical condition had made it unable to eat, but it had choked when it was given food.
Dallas was traced and claimed he panicked when the dog died and put the body in a neighbour's garden.
Defence solicitor, Duncan Hughes, told Sheriff Derrick McIntyre his client had learning difficulties and was unable to read or write.
He led an isolated life and got the dog, Jack, for company.
Mr Hughes said: "The dog had been ill earlier and Dallas had taken it to a vet, but there was a complicated procedure to get it treatment and various forms to fill in.
"The animal had recovered, but when it became ill again, Dallas didn't know what to do.
"He didn't want to go back to the vet and make a fool of himself again, so he tried to feed it and it died."
Mr Hughes told the court that at the time Dallas could hardly look after himself let alone the dog. He was now receiving support from the city council social work department.
"He does not want to keep any more animals because he realises he can't," said his lawyer. "He is just going back to a very lonely life."
Sheriff McIntyre deferred sentence on Dallas for six months and banned him from owning, keeping or being in charge of any animal during that period.
He told him: "Clearly this is a very distressing case, especially for those with a love for dogs, but I am satisfied you were not deliberately cruel to this dog, but were unable to look after it because of your own personal inadequacies".