William McArdle guilty of Gilmerton flat stabbings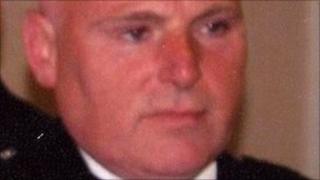 A man has been convicted of murdering a 43-year-old man in a block of flats in Edinburgh.
William McArdle, 25, has been found guilty of killing William McPhee at Castleview House, Craigour Place in Gilmerton on 11 January 2011.
Chanelle Barrett, 19, was also found guilty of assaulting Mr McPhee.
They were also both found guilty of the attempted murder of Colin Stewart, 41, at the High Court in Dunfermline. Sentence was deferred until October.
Both victims had been in the flat with Barrett in Castleview House when an argument started.
Hospital treatment
The situation developed into violence when McArdle arrived, spilling out into the stairwell.
Police were called to deal with the disturbance, and Mr McPhee was found on the 10th floor landing, where he died from stab injuries.
Mr Stewart was also stabbed in the attack, and was taken to hospital for treatment.
Det Insp Gary Cunningham, of Lothian and Borders Police, said: "Both William McArdle and Chanelle Barrett acted together to attack William McPhee, whose death in such violent circumstances has had a devastating effect on his family.
"Colin Stewart also suffered serious injuries at the hands of the pair, and it is my sincere hope that their conviction will allow both Mr McPhee's family and Mr Stewart to achieve some form of closure."