Prison term for family abuse man Kenneth Blair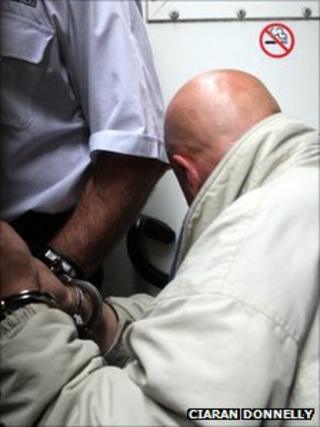 The father of a baby whose death is being investigated has been jailed for 15 years after admitting a catalogue of "barbaric" abuse against his family.
Kenneth Blair, 66, from Fife, admitted carrying out numerous physical assaults on his wife, son and daughter dating back almost 40 years.
At the High Court in Edinburgh, he also admitted raping a young girl.
This week, police reopened an inquiry into the death of Blair's son in Dundee in the late 60s.
Six-week-old Colin Blair died in a tenement flat in Dundee in 1968. The cause of death, treated by police at the time as "unexplained", was put down to inhaling vomit and bleeding inside the baby's skull.
Tayside Police said they had launched a new inquiry after receiving fresh information.
It could lead to the exhumation of Colin's body, which lies in an unmarked grave in a Dundee cemetery.
After the court heard details of Blair's reign of violence at a number of addresses in Fife between September 1967 and May 1986, defence QC Herbert Kerrigan told judge Lady Stacey he was lost for words.
"The conduct which has just been outlined by the learned advocate depute can only be regarded by any right-thinking person as barbaric and I can say little or nothing in respect of that," he said.
"The facts speak for themselves."
Judge Lady Stacey, jailing Blair, told him: "You have pled guilty to charges which show that you have subjected your family to violence, depravity and fear.
"For close on 20 years you assaulted your wife and your son and daughter for a period of about 13 or 14 years during that time.
"Nothing that has been clearly and ably said on your behalf, nor any sentence I can pass on you can make up for the damage you caused to your own family."
'Punched and kicked'
The judge said the prison term had been reduced by 25% - a discount because Blair had spared his victims the ordeal of giving evidence.
Blair, who has a record of convictions for sex with under-age girls, also admitted rape and attempted rape. He pled guilty to seven out of 17 charges in total.
The court heard how, from the first week of their marriage in 1967, Blair began hitting his wife Isobella.
He would laugh as he beat her so hard she would end up lying curled up on the floor.
That violence also extended to his son Scott, now 42, and daughter Gillian, now 41. From as young as four years old he punched and kicked them until they were sick.
He forced them to take very hot baths and he stopped them going to the toilet. For a brief spell in the early 1980s the children were taken away from their father.
They stayed in Stirling for a week and said it was the only happy period of their childhood.
Profound effect
David Green, area procurator fiscal for Fife, said: "There are no words to express the profound effect that his actions have had on his victims, or that could encapsulate the seriousness and extent of his persistently violent and sexual abuse.
"I hope that today's conviction demonstrates clearly that there is no time limit on justice, nor should people affected by such crimes ever fear coming forward to report them."
Temporary Chief Inspector Derek McEwan, of Fife Constabulary, said: "I encourage any person living with such terrible secrets or pain to come forward to the police to allow us to target other Kenneth Blairs who may still reside in our communities.
"All victims of sexual crime can be assured that the police will ensure they have access to support networks that can help them."