Easyjet expands at Edinburgh Airport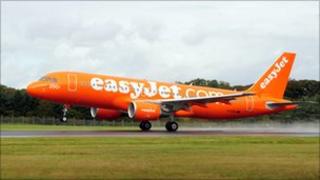 Low-fare airline Easyjet has taken on an extra plane at its Edinburgh base so it can add a further two destinations to its service plans for next year.
Easyjet will fly to Dalaman in Turkey and the country's first direct scheduled flight to Naples in Italy.
The airline will operate the Edinburgh to Dalaman route following the collapse of Holidays4u earlier this year.
The firm said it had picked Naples "to provide a further link for Scotland's large Italian community".
The no-frills carrier revealed the plans as it marked its inaugural flight to the Greek capital of Athens.
The new routes, which bring the total number of Easyjet routes from Scotland to 45, will be served by the arrival of a fifth aircraft at Edinburgh Airport, which also sees the launch of Tenerife and Grenoble later this year.
Jim O'Sullivan, Edinburgh Airport's new managing director, said: "We work very hard with our airline partners to link Edinburgh to key destinations across the globe and this investment by Easyjet is a great step in maintaining a diverse choice of routes."
Hugh Aitken, Easyjet's commercial manager for Scotland, said: "2011 has been an incredible year for Easyjet in Scotland, the highlight of which is Tuesday's launch of Scotland's only direct route to Athens, connecting Edinburgh, the Athens of the North, to the Greek capital."