Fan arrested over racist incident in Dunfermline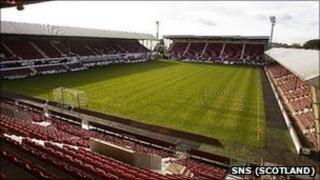 A 20-year-old man has been arrested in connection with a racially motivated breach of the peace at last Saturday's Dunfermline v Hibs football match.
The man is due to appear at Dunfermline Sheriff Court on Wednesday.
The arrest was made as the result of an intelligence-led anti-racism operation which has been running at East End Park for last few Dunfermline home games.
Plain clothed police officers have been in the crowd to apprehend anyone acting in a racially motivated way.
The incident happened in the North West Stand of the ground.
'Act as warning'
Sgt Andy Smith, of Fife Constabulary, said: "Racist abuse of players, or any person for that matter, is totally unacceptable and we will do all we can to root out the very small minority of fans who act in this despicable way.
"The operation will continue at forthcoming home games and this arrest should act as a warning and deterrent to others."
The man has been banned from the ground in the meantime, and if convicted, the club will consider further action, which is likely to be a lifetime ban.
John Yorkston, Dunfermline Athletic Football Club chairman, said: "We are a family-friendly football club and there is no place for anyone at Dunfermline who conducts themselves in a racially motivated way.
"The club's position on this is very clear - anyone who is found guilty of racially abusing players or other fans will face being banned from the club for life."