Soldiers start charity bike ride from Edinburgh Castle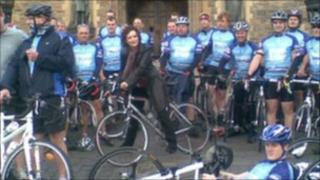 Thirty two cyclists, including two injured soldiers, have left Edinburgh Castle at the start of the Ride of Britain.
The 500 mile route to London is raising money for the armed forces charity SSAFA Forces Help.
Actress Blythe Duff joined soldiers, veterans and supporters at the castle before the cyclists were given a bugle fanfare send off.
They're hoping to raise more than £40,000 over the next five days.
The Ride of Britain, led by Rifleman Michael Swain, 21, and Rifleman Paul Jacobs, 22, has been organised by the Soldiers, Sailors, Airmen and Families Association (SSAFA) Forces Help.
'Ultimate challenge'
Michael Swain, 21, from 3 Rifles, who lost both legs in an IED explosion in Helmand Province in 2009, will complete the trip on a hand-powered bike.
He said: "This will be the ultimate challenge for me.
"I have been prepping for this since mid 2010 and have taken part in a number of shorter bike ride events but this will be the toughest yet.
"I hope I can inspire the general public to get involved and support SSAFA, as well as servicemen and women who are receiving rehabilitation at Headly Court."
Mr Jacobs, from Birmingham, who served with 2 Rifles, was blinded whilst trying to save a colleague from a bomb blast.
He will ride a tandem bike with his brother throughout the journey.
'So important'
The first leg of the journey, from the esplanade of Edinburgh Castle to Carlisle, is approximately 90 miles.
They will also stop off at Harrogate, Lincoln and Cambridge before making their way to London's Horse Guards Parade, in time for the Daily Mirror's Pride of Britain Awards, which will mark the 10th anniversary of Britain's brave servicemen and women going to Afghanistan.
Taggart star Ms Duff, said: "It is an honour to cheer the group off. The cyclists all have a big task ahead of them but I'm sure they will have a fantastic time along the route.
"The work the Armed Forces does every day is so important, and I wanted to be there to say thank you to them."
The charity provides practical support and assistance to more than 50,000 people, ranging from D-Day veterans to young soldiers wounded in Afghanistan.