Swollen dog left to die in Fife country lane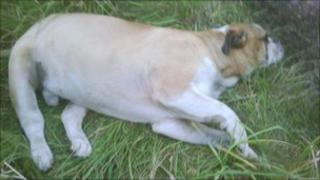 A dog which was so swollen it looked like a "pregnant female" due to a serious heart condition has been put down after it was found dumped in Fife.
The male mastiff was found collapsed on the side of the road near Bickramside Farm in Oakley on Monday night.
Officers said "heartbreakingly" it wagged its tail when they approached despite not being able to lift its head.
Vets said it could have been suffering from the disease for months.
Insp Louise Seddon, of the Scottish SPCA, said: "I arrived just after 19:00 to find the dog completely flat out.
"He wasn't even able to lift his head, but heartbreakingly he wagged his tail as I approached.
"It was clear he was in a great deal of distress as his breathing was very laboured and his stomach was so swollen he looked like a pregnant female.
"I rushed him to the local vets where he was diagnosed with a serious heart condition.
"The swelling to his stomach and back legs was from a build up of fluid as a result of poor circulation caused by his diseased heart.
"This would indicate that he had been suffering from this condition for weeks, possibly even months."
She added: "We can only imagine how frightened and alone he felt as he lay helplessly by the roadside."
The Scottish SPCA is urging anyone who recognises the dog and knows who might have owned it, which was three to five years old, to get in touch.
A mark around his neck indicated that he had been wearing a collar up until recently.