Man denies his brother Nadeem Siddique's assassination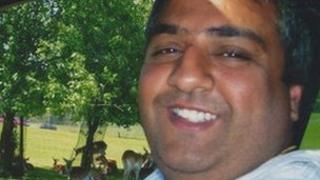 A man accused of trying to arrange a hit-man to assassinate his brother in Fife is due to stand trial next month.
Mohammed Nadeem Siddique, 38, was gunned down in Forres Drive, Glenrothes on 24 October last year.
Mohammed Azam Siddique, 42, along with Tencho Andonov, 28, and Deyan Nikolov, 26, deny murdering him.
The three also deny attempting to murder David Dalgleish by shooting him in the head, also in Forres Drive on 24 October 2010.
After a brief hearing at the High Court in Edinburgh on Wednesday judge Lord Brailsford confirmed 17 October as the start of the trial.
All three accused remain remanded in custody.
Loaded firearm
The indictment alleges that in August and September of 2009 Mohammed Azam Siddique offered two men £1,000 to murder his brother.
A second charge alleges that in October last year at various addresses in Fife and West Lothian the three accused planned the alleged shootings.
Mohammed Nadeem Siddique, it is claimed, was to be lured to the Forres Drive address, thinking he was going to a meeting about the sale of contraband cigarettes and drink.
Mr Andonov allegedly went there with a loaded firearm, and was to have been paid almost £18,000.
Mr Andonov and Mr Nikolov face a further charge of attempting to defeat the ends of justice by trying to destroy evidence, which they deny.
Mr Andonov is also said to have arranged a flight to Bulgaria.
The trial is expected to last six weeks, partly because the need for interpreters for Mr Andonov and Mr Nikolov is expected to slow down the proceedings.