Edinburgh's gas office bust mystery solved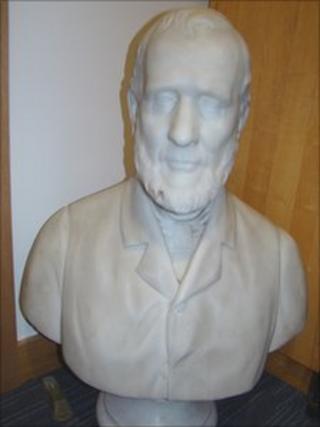 The identity of a mystery bust which has been puzzling Edinburgh gas workers for nearly 40 years has been solved.
The sculpture has been revealed as William Denny, a famous shipbuilder from Dumbarton.
Scotland Gas Networks, who had the bust at its old HQ in Edinburgh, had not known who the man was.
A Glasgow gas worker saw a picture of it on the BBC Scotland news website and realised that a duplicate bust sat in Dumbarton's old county buildings.
The Scotland Gas Networks (SGN) bust was originally on display in the old Dumbarton gas showroom, which was owned by the council, until it closed in 1970.
It was then moved to the reception at the old SGN headquarters at Inchcolm House in Edinburgh.
Staff had thought it might be William Murdoch, the inventor of gas lighting in 1792.
However, pictures of the late Murdoch failed to show any resemblance to the bust.
Then following the media call for help to solve the mystery, gas technician John Rodgers, from the firm's offices in Glasgow, solved the mystery.
Plans are now underway to find a suitable home for the famous shipbuilder.
Mr Rodgers, said: "There is no doubt about it that the mystery bust is William Denny.
"The old Dumbarton gas works building sits directly opposite what used to be Denny's Shipyard.
"They were just across the gates from each other and during those times different industries used to interlink with each other.
"During that time the gas board manager would have been an important figure in the town and the bust would have been gifted to him.
"I first started at SGN as a young technician and the mystery has always fascinated me.
"But with a little detective work and with the recent media interest I got my thinking cap on.
"We will probably get a plaque made now, so that the same mystery doesn't come up again 50 years later.
"And I would very much like to see Mr Denny get a permanent and fitting home."