Dog found dead in suitcase at Craigmillar Castle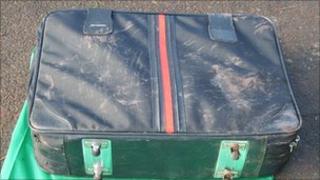 The body of an emaciated dog has been found inside a suitcase that was dumped in woodland in Edinburgh.
A very thin adult male white Staffordshire bull terrier with black markings was found by a dog walker after his pet began sniffing the bag.
The dog's body was found in woodland at Craigmillar Castle on Sunday night.
A post-mortem carried out on the dog has revealed that it was dead prior to being put into the case and had been for some 48 hours or more.
The vet who examined the dog concluded that it was very underweight and should have received veterinary treatment.
Vet treatment
Insp John Toule, of the Scottish SPCA, said: "A member of the public was alerted to the case by his dog after he ran over and started sniffing and scratching at it.
"Inside was a very thin adult male Staffordshire bull terrier, boxer type dog, white with black markings.
"There was also a blanket, ball and dog chew so it would appear that someone may have been trying to dispose of their pet.
"However, this dog should have received vet treatment and its condition may well have led to its death.
"We are keen to speak to anyone who recognises the description of the dog and can tell us who owned him, or anyone who spotted someone carrying the suitcase in the area."