Edinburgh tower blocks successfully demolished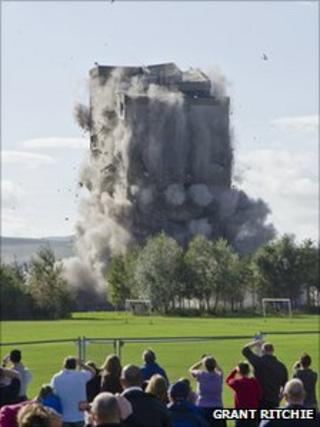 Three multi-storey tower blocks in Edinburgh have been successfully demolished by controlled explosion.
The buildings in north Sighthill were removed as part of regeneration plans. The demolition took place at around 11:00 on Sunday.
The blocks - Glenalmond, Hermiston and Weir Courts - were once home to around 285 families.
The blast which removed them from the Edinburgh skyline was started by Lewis Reynolds, nine.
Local residents Maureen and William Murdoch who lived in Glenalmond Court for 43 years and Norman Work, vice convener of the health, social care and housing committee also attended the demolition.
Mr Work said: "I know that many people will have fond memories of the North Sighthill flats but I'm also sure that most will recognise the need for progress and investment in the area.
"Sunday's demolition is part of a programme of council-led investment worth up to £150m aiming to build 1,300 homes across the capital.
"This marks a major shift in our strategy that will boost the future of social housing in Edinburgh for the 21st Century."
An exclusion zone was set up on the day of the demolition and any residents in that area are being accommodated in a nearby reception centre.
Some roads have been closed and bus routes diverted.
The redevelopment of the area will see up to 320 new homes for sale and rent, half of which will be affordable housing.
The first new council homes to be built will be in Gracemount where families are expected to take up residence in early 2012.