Dunfermline game arrests for alleged sectarianism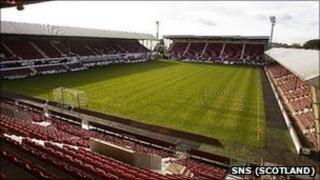 Three men have been arrested in connection with alleged sectarianism at a football match between Dunfermline and Rangers.
Fife police said the arrests took place at East End Park.
A report will be submitted to the procurator fiscal.
Dunfermline Athletic football club has banned the men from the ground pending the outcome of any court case, and has promised to "name and shame" on its website anyone convicted.
Sgt Andy Smith of Fife police said: "Fife Constabulary is committed to delivering a clear message to those who continue to shout hate-filled comments during football matches that we will pursue you until this type of behaviour stops.
"These arrests should act as a further warning to supporters attending East End Park who are intent on conducting themselves in a racially or religiously prejudiced manner."