Match ban for Rangers fans after Dunfermline arrests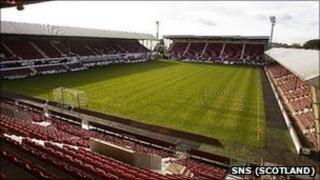 Three Rangers fans arrested during the club's match at Dunfermline at the weekend have been banned from attending any professional football matches in Scotland while they await trial.
Brian Gilmour and Stuart Robertson, both 21, and Derek Johnston, 19, appeared at Dunfermline Sheriff Court.
They denied shouting, swearing and uttering sectarian abuse during Saturday's game at East End Park.
They were released on bail and are due to return to court in December.
Extra bail conditions ban Mr Gilmour, from East Kilbride, Mr Johnston, from Glasgow, and Mr Robertson, from Portlethen, from attending any SPL, Scottish Football League, or Scottish national team games.
In addition, they will have to report to a designated police station during the first half of any Rangers game, home or away, anywhere in the UK or abroad, to ensure that they are not attending.
The three were arrested as part of an ongoing operation by Fife Constabulary to tackle football-related crime.