Edinburgh festival-goers may be asked to pay ticket tax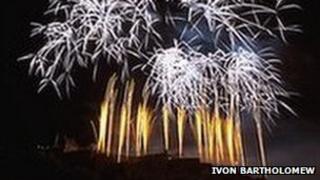 Edinburgh festival-goers could be asked to volunteer to pay extra for tickets in a bid to help raise money for the city to host major events.
Jenny Dawe, Edinburgh City Council's leader, said a box to tick to add a "small percentage" could be added to online booking forms.
She said she there was "generally no objection" if people knew the money was going to improve venues.
Sales of tickets at this year's Edinburgh Fringe were up by 3% on 2010.
According to figures released by the Fringe Society, 1,877,119 tickets were sold by its box office over the festival.
Poor weather
It was another increase on the record breaking sales achieved in 2010.
Poor weather during August and a greater concentration of venues in one part of the city did not appear to have had an adverse effect on ticket sales.
Mrs Dawe said: "I have heard the argument made for putting a very small percentage on to festival tickets and that could even be done on a voluntary basis.
"If people buy online, for example, there could be a box to tick to put in a small percentage.
"If people know that it will go towards improving venues there is generally no objection.
"Given the public sector is under increasing pressure with reduced budgets and increasing demand, it is worth looking at different ways we can raise money for things like the cultural sector."