Princess Royal opens £100m Dick veterinary studies centre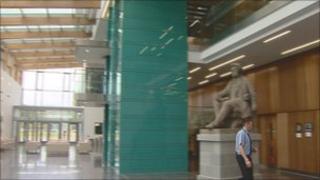 One of the most advanced veterinary research centres in the world is being officially opened by the Princess Royal.
Edinburgh University's "Dick Vet" is part of a £100m campus, based at Easter Bush, on the outskirts of the city.
The new three-storey building can accommodate more than 1,000 staff and students.
The veterinary centre is beside the university's hospitals for small and large animals.
The new vet school building will allow the Royal (Dick) School of Veterinary Studies to increase its undergraduate intake to 180 students.
The building has a 200-seat lecture theatre fitted with multi-media technology, a library, restaurant, seminar rooms and teaching laboratories.
Students will also be able to practise on interactive models at a clinical skills facility before going on to treat animals.
Professor Elaine Watson, head of the Royal School of Veterinary Studies, said: "The educational needs of the 21st Century vet are very different from the needs of veterinary students in the past.
"Vets need to be trained for an international market-place.
"They might find themselves helping improve the livelihoods of a billion poor livestock farmers in developing countries, thus working towards securing food production for a growing global population.
"Alternatively they could be working in public health to prevent illnesses being transmitted from amimals to humans thereby thwarting devastating pandemics such as avian flu.
"Vets working in biomedical research will be able to look for cures for life-threatening diseases affecting both animals and humans while vets could even work on the front line of defence against agricultural bioterrorism, such as the use of anthrax."