Sturgeon launches £18m Midlothian hospital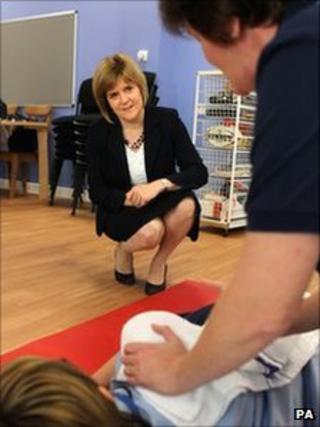 Health Secretary Nicola Sturgeon has opened an £18m community hospital in Midlothian.
Midlothian Community Hospital in Bonnyrigg, provides 88 beds - 40 of which will be used for the care of frail elderly patients.
The other 48 will be used for elderly mental health patients.
The hospital includes a day hospital for older people with mental health problems, and a dedicated physiotherapy and occupational therapy service.
An out-patient department including X-ray service, child health clinics, and a range of other health services are also at the hospital.
Ms Sturgeon said: "A key feature of NHS Lothian's programme to overhaul and modernise hospitals throughout the Lothians, this facility provides accommodation that will ensure vulnerable patients benefit from a modern, fit-for-purpose facility.
"This new health centre will not only signal a new era in patient care and comfort with well-equipped wards, treatment areas, consulting rooms and waiting areas.
"I fully believe it will improve day-to-day working conditions for staff, allowing them to deliver first-class care in a first-class environment."
Derek Milligan, Midlothian Council leader, said: "I am glad to be here at the official opening of this impressive hospital, which marks the end of a long road to replace the Loanhead and Rosslynlee facilities.
"This has been a great example of our work in partnership with the NHS, where we helped identify the site and get it open, and it's the latest in new healthcare investment in Midlothian worth well over £21.5m in the last 10 years."