Four wards fail Edinburgh Royal Infirmary inspection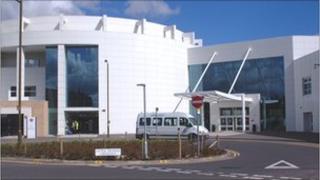 Dirty toilets, dusty floors and badly stained walls were found by inspectors during an unannounced visit to Edinburgh Royal Infirmary.
Dust was found in floor areas of one ward, toilets were dirty in three wards and there was "poor cleanliness" of some patient equipment.
Overflowing dirty linen skips were found in ward 205 and some staff were seen not washing their hands.
Scottish Labour said it was a "damning report" that demanded "urgent action".
The unannounced inspection on 18 August found five out of the nine wards and departments inspected were clean, and ward staff reported "good communication links" with the infection control team.
Safe conditions
Sandra Mair, deputy chief operating officer for NHS Lothian's university hospitals division, said: "We welcome the HEI visits and use the inspection reports to ensure we continue to provide quality care in safe, clean and comfortable environments across NHS Lothian.
"The Healthcare Environment Inspectorate singled out areas of strength in the Royal Infirmary of Edinburgh, including good communication links between ward staff and the infection control team.
"We recognise there were areas where the inspectors feel we need to improve, and we are already working on a detailed action plan to address these issues.
"In particular, we are working closely with Consort, our private partners, to improve communication between ward, cleaning and infection control staff, for example, by having the same cleaning staff in the same areas to encourage them to become part of the ward team.
"We are also involving charge nurses in the review of cleaning processes in their own area so they feel empowered to ensure adequate cleaning levels are maintained on their wards."
Scottish Labour's shadow health secretary Jackie Baillie said: "This damning report demands urgent action.
"It is simply not good enough that four out of nine wards were found to be dirty and it is all the more surprising at this state of the art hospital.
"Patients and their families have a right to know that when they go into hospital, they will be treated in clean, safe conditions."