Stone from Kirk Moderator's stolen ring returned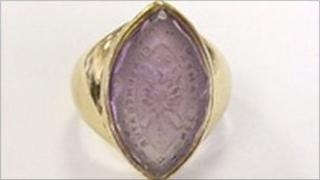 Part of a ring stolen from the home of the Moderator of the Church of Scotland on Christmas Eve has been anonymously returned to the Kirk.
The return of the amethyst stone means the Moderator's ceremonial ring can be remade although the gold it was mounted on is presumed to have been sold.
The ring was stolen during a robbery at the then Moderator's Helensburgh home.
The missing stone was inside a mystery letter sent to the church's head office in Edinburgh.
The ring has been handed down to Moderators for a century.
The gold oval ring was taken during a break-in at the home of the Right Reverend John Christie in Helensburgh.
The ring is presented every year by the outgoing Moderator of the General Assembly of the Church of Scotland to his or her successor and is worn at ceremonial occasions.