Fife pier fall OAP rescued by Kinghorn Lifeboat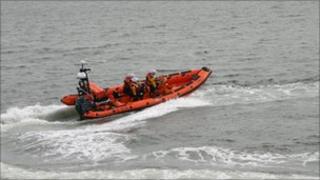 A pensioner had to be rescued after falling from a coastal pier on to rocks.
The 74-year-old plunged from the old pier between East Wemyss and West Wemyss, Fife, at about 18:00 on Wednesday.
He is said to have fallen about 2.5m (8ft).
He suffered a serious leg injury and lay on the rocks for more than an hour before Kinghorn Lifeboat volunteers arrived to rescue him.
The lifeboat crew had been at Fisherrow taking part in a training exercise when Forth Coastguard raised the alarm, after receiving a call for assistance from the ambulance service.
The lifeboat arrived at the scene at about 19:30.
Summon help
Crew member Steven Wallace said: "We arrived at the isolated location to find the ambulance service with the injured patient.
"It is understood that the man had fallen about 2.5 metres on to rocks just after 18:00. It took nearly an hour for him to summon help.
"The casualty was put on to a spinal stretcher, and then transferred on to the lifeboat with a paramedic.
"We then took the man onboard the lifeboat to West Wemyss harbour where we were able to get him ashore to an awaiting ambulance.
"The lifeboat was the easiest and quickest way to get the injured man to the ambulance, and then to hospital.
"It is understood that the casualty was suffering from serious leg injuries."
An ambulance spokesman said the man was taken to Queen Margaret Hospital in Dunfermline, suffering from "lower limb injuries".