Golfer sues West Lothian club over eye 'explosion'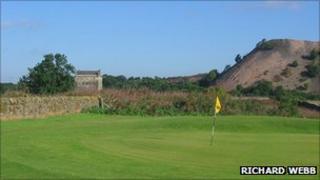 A golfer has started legal action over an incident in which he lost an eye when he was struck by a ball.
Anthony Phee, 44, from Manchester, told the Court of Session in Edinburgh that he had ducked and put a hand up when he heard a shout of "fore".
But he was hit by a ball and felt his eye "explode".
Mr Phee has raised an action for £750,000 damages against golfer James Gordon, from Livingston, and Niddry Castle golf club in West Lothian.
He said he was playing the course, at Winchburgh, for the first time when the accident happened in August 2007.
He had been invited to play there while working on a project at Edinburgh's Waverley station.
Mr Phee told the court: "I didn't know the course. I was just basically following the people I was with."
He said he did not have any knowledge of the line of the 18th hole.
"I had no idea where the ball was coming from," he said.
18th tee
Mr Phee said there were no signs asking those on the course to be aware of shots from the 18th tee or to wait while it was being played.
In the action it is said that Mr Gordon hit the ball from the 18th tee and it struck Mr Phee, who was about 150yds (137m) away.
Mr Gordon told the court that his shot swerved to the left and kept low.
He said he was "very anxious" when the ball ended up going towards a group of four people.
Mr Gordon said: "On the shout of fore three people went down."
But he added that the fourth member of the group was "looking towards the sky".
The club said it was not aware of any previous accidents involving people walking on the pathway being struck by shots hit from the 18th tee.
The hearing before Lord Brailsford continues.