Sty sought for homeless hogs in Edinburgh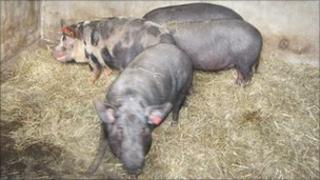 A Scottish animal welfare charity is seeking a home for four pigs on condition they will not become bacon.
The Scottish SPCA took the animals into its care almost a year ago.
But, so far, no-one has offered to give the three-year-old male crossbreed and his three 18-month-old sons a good home.
Now staff at the charity's rescue centre in Balerno, have launched a fresh bid to find a pig keeper to take the pigs but only as pets.
Nicknamed the "Band of Brothers", were rescued by the charity when their previous owner was unable to care for them.
Pig-proof fencing
Centre manager Diane Stewart said: "Pigs are very sociable animals who enjoy the company of their own kind so we're looking for an experienced pig keeper or small holder who would like to rehome these guys all together, or in pairs, as pets.
"Ideally they will have access to half an acre of land or more, with a good sized pig shelter and pig-proof fencing because they can be quite good escape artists if their enclosure is not secure.
"These boys are still young and can live up to 15 years or more so we're looking for someone who's committed to their long term care.
"In the time they've been here with us they've given us a great deal of pleasure, they are surprisingly intelligent and inquisitive creatures."