Award for Livingston teen who rescued kids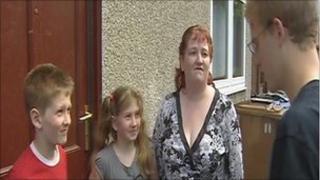 A West Lothian teenage boy who jumped into a pond to save two young children from drowning has been hailed a hero by the first minister.
Aaron Love, 16, from Livingston, was one of 30 people given a Brave@heart award by Alex Salmond at an award ceremony at Edinburgh Castle.
He plunged into the water after he saw the brother and the sister get into difficulties in May last year.
The teenager was one of the youngest to be awarded at the ceremony.
Other winners included Annette Smith, 46, Alistair Campbell, 55, Jamie Anderson, 20, and James Brown, 18, all from Inverness-shire, who helped disarm and restrain a shoplifter armed with a knife in the supermarket where they worked, and Eric Reid, 56, from Aberdeenshire, who waded into a freezing river in January to help a woman whose car had skidded on black ice.
He wrenched open the door of the overturned car while it was in the water and pulled the driver out before police arrived.
'All heroes'
Also honoured were Martin Farnworth, 62, Liam McKenzie, 31, from Dundee, and Dr Catrina Hewitt, 32, from Perthshire, who climbed down a dangerous ravine to treat a 15-year-old girl who had lost control of her bike and fallen into the River Braan.
Dr Hewitt, a local GP, stayed with the girl and treated her until the arrival of a Royal Navy search and rescue helicopter.
William Hill, 61, from Whitburn, West Lothian, chased a man who robbed the shop he worked in at knifepoint and succeeded in disarming him before police arrived.
First Minister Alex Salmond said: "They are all heroes."
He said: "The Brave@Heart Awards recognise and celebrate people who have shown exceptional bravery, whether in battling the elements to save others, by intervening to stop a criminal in the act or by showing life-saving presence of mind.
"The winners being honoured at Edinburgh Castle range in age from under 10 to over 60, they live all over the country and are from all walks of life. What they have in common is that each and every one of them has shown remarkable courage.
"Each Brave@Heart award winner has risen to the challenge of the unexpected and shown the capacity to face and overcome danger in any number of forms. Each winner has stepped out of ordinary life and shown an extraordinary valour.
"They are all heroes and it is my privilege to present them with their awards."
The Brave@Heart awards replace the First Minister's Commendation for Meritorious Conduct.
The first Brave@Heart awards ceremony was held last year.