Edinburgh set for Gaelic school despite rising costs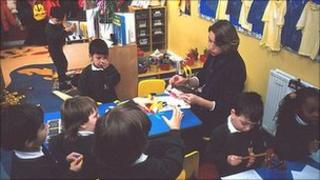 Scotland's capital is on course to have a stand-alone Gaelic school despite an increase in the project's cost.
Edinburgh Council's education leader said the move was still possible even though a Scottish government grant would no longer cover all the costs.
Councillors are preparing to concede the move after the government agreed to release some extra funding to pay for the refurbishment of a building.
The current unit, within an ordinary school, has struggled to meet demand.
Now the city council looks set to agree that Gaelic education should be in Bonnington school which shut down a few years ago.
The development is expected to result in a surge in the number of young speakers of the language, which has been in decline.
Education convener Marilyne MacLaren has recommended that councillors vote on 27 October for the transfer of classes to the empty school.
The Scottish government had initially agreed to provide £1.4m, which the council had said was needed for renovating the empty building.
There was widespread surprise in June when the council said a new inspection, which uncovered vandalism, indicated it would need £3.5m.
The Scottish government has now agreed to award £1.8m and an extra £100,000 a year for running costs.
Although the Scottish government has declined to provide the revised request of £3.5m, Cllr MacLaren said the move could still take place.
She described the move to Bonnington as "the only show in town" as ministers had made it clear they would not fund alternatives - such as extensions in the playground of Tollcross primary.
A stand-alone school with its own leadership and identity is expected to raise the profile of Gaelic medium education.
It is hoped it will help raise awareness among parents of this option for schooling, whereby children learn all the subjects they would in an ordinary school while also learning Gaelic.
Earlier this week, in the face of criticism of public spending on Gaelic, Scottish government body Bord Na Gaidhlig insisted there was a misunderstanding about costs.
Arthur Cormack, the body's chairman, said: "Local authorities have to educate children. It doesn't really matter whether they're being educated in English or Gaelic. Costs are similar if class sizes are similar."
Bord Na Gaidhlig called this week for the number of children entering primary one of Gaelic education to double from its present level of 400 across the country.
It said the move was essential to help reverse a decline in the number of speakers of a language which was part of Scotland's heritage.