Music row murder accused Steven Kettles called 999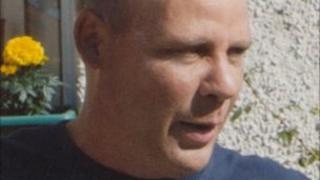 A Fife man accused of murdering his neighbour in a row over loud music dialled 999 and called for an ambulance, a court has heard.
Steven Kettles denies murdering David Allan, 44, in a flat in Overton Mains, Kirkcaldy, by stabbing him on 3 March 2011.
Mr Kettles, 28, has lodged a special defence of self defence.
At the High Court in Edinburgh the jury heard how Mr Kettles told the emergency services Mr Allan had been stabbed.
Police officers, who were sent to the block of flats, knocked on the door of the ground floor flat and Mr Kettles opened the door and let them in. The officers saw a man lying on the kitchen floor.
Mr Kettles had blood on his hands and T-shirt.
PC Sarah Bell said Mr Kettles told her the man had turned up at his door and collapsed. The man, she said, was unconscious and barely breathing.
There was a tea towel over his chest and, when she removed it, she saw a one inch cut or laceration on the left side of his chest.
Advocate Depute Keith Stewart QC asked her if there was any indication someone had attempted to give the man assistance and she replied that the man's T-shirt had been lifted up to let someone apply pressure.
Another officer, PC Daniel Hatch, said Mr Kettles appeared very agitated and in a state of shock.
He said: "He told me numerous times a male had knocked on his door and said 'I have been stabbed. Get me an ambulance'."
The officer added: "He told me he had dialled 999 and had been told to put the male on his back and get a tea towel and apply pressure to the wound."
Mr Kettles went voluntarily to the station with PC Paul Thomson.
Struggle claim
While they were waiting in a room for the CID to arrive, PC Thomson said Mr Kettles kept trying to talk to him about the situation.
The officer said the instructions were he should not get such information while waiting for the CID to take a formal statement.
He said he tried to steer the conversation away from the incident, but Mr Kettles "was very keen to try and explain what happened".
PC Thomas went on: "He explained he was in his house, on his own, listening to music, and heard a knocking at the living room window.
"He said his neighbour was extremely angry about the volume of the music he was playing.
"He attended the door and saw his neighbour had a visible stab wound and said he had been stabbed and to call an ambulance."
PC Thomas said Mr Kettles had then given two other explanations about what had happened. He said the male had attended the door and tried to force his way in.
At the time he said he was in the kitchen making a sandwich and he had attended to door with a knife in his hand.
Mr Kettles said the male had struggled with him and the knife had entered the male's stomach accidentally.
When Mr Kettles was detained at the police station, the custody sergeant, James Westwood, said Mr Kettles told him Allan "walked into me".
The trial before Lord Tyre continues.