William McArdle jailed for chocolate bar murder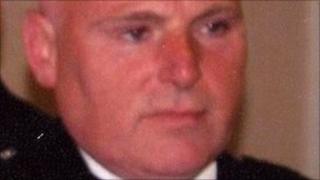 A man has been jailed for life after carrying out a murder with a sword after a bust up over a chocolate bar.
William McArdle, 25, killed one man and left another fighting for his life at Castleview House in the Gilmerton area of Edinburgh on 11 January.
Last month McArdle was found guilty of killing William McPhee, 43, and attempting to murder Colin Stewart, 41.
He was told at the High Court in Edinburgh he must serve at least 22 years in prison for the attacks.
Chanelle Barrett, 19, who last month was convicted of assaulting Mr McPhee, and of the attempted murder of Mr Stewart, received a nine-year sentence.
Judge Michael O'Grady said: "It seems almost beyond belief that a trivial dispute over a bar of chocolate could set in train events that would lead to one man dead and one man struggling for his life.
"It was an attack that was vicious, sustained and cowardly."
The judge added that McArdle had shown "not a flicker of concern" for his victims following the attacks.
The two victims were at a flat with Barrett when an argument started and McArdle arrived at the scene.
During the attack on Mr McPhee, McArdle repeatedly stabbed him on the body and repeatedly stabbed and struck at Mr Stewart.
The judge told Barrett: "You played a disturbing role in these events. It is clear you were the source of much of the dispute and aggression that day."
Following the sentencing Mr McPhee's widow, Roseanne, issued a statement and said: "The sentence imposed today may be considered by some as sufficient punishment for those involved in the murder of my Billy, but nothing can compensate me for the loss of my husband, best friend, soul mate and latterly my carer."
"He was also the loving father of Kelly-Anne and Graham," she said.
"I knew Billy since we played as children on a travellers' site in Aberdeenshire, when our fathers were friends. Billy was one of six children, as was I," she said.
Mrs McPhee said: "We met again in 2003 and married three years ago, setting up home in Edinburgh.
"Two days after our wedding I was diagnosed with cancer.
"Billy became my carer and support, from that day. As a true travelling man Billy could turn his hand to almost anything.
"He will live on in my heart."
Det Insp Gary Cunningham, of Lothian and Borders Police, said: "It is my hope that today's sentences bring some comfort to Mr McPhee's family, who have carried themselves with dignity during what has been an extremely difficult period in their lives."