Murder victim David Allan 'walked into knife'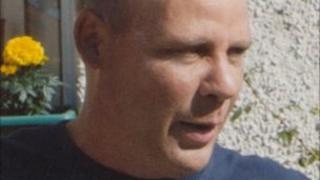 A Fife man accused of stabbing his neighbour to death in a row over loud music told a police interviewer the victim walked into his knife.
Steven Kettles denies murdering David Allan, 44, in a flat in Overton Mains, Kirkcaldy, by stabbing him on 3 March.
Mr Kettles, 28, has lodged a special plea of self defence.
At the High Court in Edinburgh the jury listened to an hour-long interview by Det Sgt Colin Robson. The trial before judge Lord Tyre continues.
At the beginning of the police interview Mr Kettles was asked if he knew what "murder" meant.
He replied: "Murder is when somebody stabs somebody and they die."
The jury had heard that Mr Kettles had learning difficulties and an IQ of 57.
Cheese sandwich
Mr Kettles said he had arrived home at about 01:00 and had been in his bedroom when a man banged on the window and shouted "Turn it down. Turn it down".
He said he had turned the volume of the music down and went into his kitchen to make a cheese sandwich.
Then someone began banging and kicking at the front door.
Mr Kettles said it was his upstairs neighbour, but he did not know his name.
The man, who turned out to be Mr Allan, tried to force his way into the house, Kettles said.
He said: "I was scared and I still had the knife in my right hand".
Kettles added: "I never forced it into him. He went into it."
Mr Kettles told the police interviewer Mr Allan said: "You've stabbed me."
He claimed Mr Allan then punched him and the knife flew away.
Mr Kettles said he then dialled 999 and called for an ambulance.
On the instructions he received over the phone, Mr Kettles said he applied pressure to the wound in Mr Allan's stomach to stem the flow of blood.