Hillend dry ski slope to get extension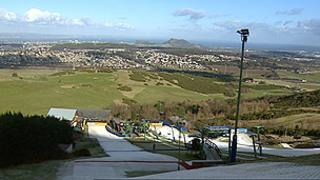 Scotland's main dry ski slope is getting a £500,000 extension, it has been announced.
The Midlothian Snowsports Centre at Hillend, outside Edinburgh, is in line for 290m of additional skiing surface.
A detailed planning application has been submitted for work on the site.
It outlines an extra 210m of regular slopes, 80m of new nursery slope, new snow-tubing runs and two tows. The £500,000 funding comes from Sportscotland.
It aims to help to secure the future of the facility.
At the end of the financial year in 2010, the snowsports centre was under threat, with its operators Midlothian Council questioning whether it could continue to pay for the facility.
Earlier this year the Scottish government approved the payment of £400,000 to support the use of the centre by local school children.
The council introduced a package of efficiency measures, including increasing ticket prices, last year.
About 30 Olympians, including Alain Baxter and Finlay Mickel, have trained on its artificial slopes over the years.