Protest over St Andrews University fees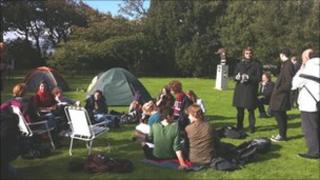 Protesters have occupied St Andrews University grounds over its decision to charge rest of the UK (RUK) students £36,000 for a four-year degree.
About 20 students have been camped outside the principal's residence at The Scores since 06:00.
They said they plan to stay there for 36 hours to "symbolise the £36,000 debt the university has asked its RUK students to graduate with".
The Scottish university said it would charge £9,000 a year in tuition fees.
Four tents have also been erected.
However, St Andrews University said it would offer "a wide-ranging package of new bursaries, scholarships and financial aid".
The university said it currently costs £11,772 to teach one undergraduate student for a year at the institution.
Students resident in Scotland do not have to pay tuition fees at Scottish universities.
Undergraduate students from England, Wales and Northern Ireland whose household income is less than £42,600 will not have to pay the fees to attend the university.
The university said it would commit 40% of the additional fee income it receives from RUK students to bursaries and financial aid.
Peaceful protest
Students are demanding an immediate withdrawal of the proposed fees as well as "greater transparency and democracy in university decision making".
A St Andrews University spokeswoman said: "With safety of paramount concern, the university is permitting the occupation, managing access and recognising the students' right to peaceful protest.
"They have made a number of demands including the withdrawal of the proposed £36k fees for RUK students at the University of St Andrews and all fees for Higher Education in Scotland.
"As we have already publicly stated, a fee of £9,000 per annum to attend St Andrews is a very good deal and does not cover the cost of the education provided nor does it reflect the lifelong benefits accrued by our students.
"We are not a wealthy institution. In spite of our age and our international standing our endowment is remarkably small."